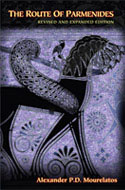 The Route of Parmenides
A new, revised edition including a new introduction, three additional essays and a previously unpublished paper by Gregory Vlastos

2008
978-1-930972-11-7
457 pages • 6 x 9 1/4 • Paperback
$47.00




Alexander P.D. Mourelatos is Professor of Philosophy and Classics at The University of Texas at Austin. A member of the UT Austin faculty since 1965, he founded there, and for many years directed, the Joint Classics-Philosophy Graduate Program in Ancient Philosophy, widely recognized as one of the best such programs in North America. He received all his academic degrees from Yale University (Ph.D., 1964), and has also been awarded an honorary degree in philosophy in his native Greece (University of Athens, 1994). In 1999, he was elected Corresponding Member of the Academy of Athens.

In U.S. national competitions he has received several awards, including the John Simon Guggenheim Fellowship. On some 130 occasions, he has delivered lectures at academic venues in the U.S.A., Canada, Mexico, Argentina, Europe, Australia, and New Zealand. His articles have appeared in journals in classics; philosophy; history and philosophy of science; and linguistics.

Outside Texas, he has held visiting appointments at the University of Wisconsin, Madison, at the Institute for Advanced Study (Princeton, NJ), the Center for Hellenic Studies (Washington, DC), the Australian National University, Carleton College, and the University of Crete.