A secret concealed for centuries, shrouded in myth, silenced by stone.

A secret that if unleashed threatens to shake the very foundation of Western civilization.

A secret that can remain hidden no longer.

The quest begins in Rome, where a grisly murder and a plundered tomb serve to ignite perhaps the most controversial conflict in human history. Inspector Domenico Conti is charged with the task of recovering the contents of the tomb, but as he delves deeper into the investigation, he is thrust into the center of a centuries-old struggle between truth and those who would stop at nothing to conceal it. But he is not alone.

Dr. Dana McCarter, newly appointed director of the Advanced Institute for the Study of Antiquity, finds herself at the heart of the mystery when her considerable expertise in ancient Greek philosophy and her suspect involvement with the black market take her on a journey beginning in her New York University offices and sweeping around the globe—from the dark alleys of Moscow, to the rolling hills of the Italian countryside and the enigmatic relics of an ancient civilization, alive with long-kept secrets.

As the search for answers leads them through a labyrinth of conspiracy and intrigue, Dana and Domenico must question everything they believe in and decide how much they are willing to sacrifice to know the truth.



---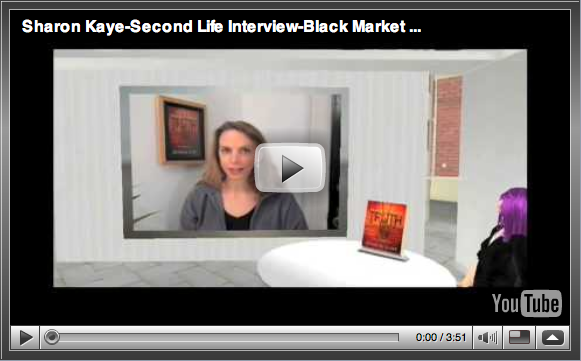 Watch an Interview in
Second Life!
---


"If you haven't recently thought much about the lost writings of Aristotle, and even if you find the philosophical dialogue a soporific literary genre, you may well find yourself inclined otherwise while devouring

Black Market Truth

, a 'philosophical suspense thriller' and page-turner by Sharon Kaye."
(continue to the Chronicle article)
—Joe Di Prisco
Special to The San Francisco Chronicle
---
"[Kaye's] devotion as a philosopher and historian, especially with regards to Aristotle, has produced a suspenseful and thought-provoking novel that will leave the reader anxious for the next installment of The Aristotle Quest.Ē
—Richard Pimentel
Philosophy News
---
"St. Paulís Basilica in Rome has been bombed. Missing are five ancient scrolls buried in the saintís otherwise empty tomb. What dangerous doctrines appear in Aristotleís lost dialogues? Think Dionysian cults, the Osiris myths, and the origins of Christianity...[T]he book leaps to life when returning to Aristotleís day using modern idioms."
—BOOKNEWS
The Poisoned Pen
---
"Fast-paced, daring, and very entertaining, Black Market Truth is the quirkiest of reads –a cerebral thriller. Novelist Sharon Kaye scarcely stops for air as she weaves Dionysian cultists, Aristotle and five stolen scrolls into a rollicking tale of international intrigue, betrayal, and conspiracy."
—Heather Pringle
Contributing Editor, Archaeology Magazine
And author of The Mummy Congress
---
"This is a rip-roaring, fast-paced detective-mystery-thriller, school of The Da Vinci Code, full of surprises: a murder opens an international hunt uncovering a sinister conspiracy to hide secrets that would undermine the foundations of Christianity. Inserted into the contemporary action are recreations of Aristotle's lost works and his lovers' diaries: these brilliant, lively, contemporary-sounding inventions reveal, in their own way, more about the philosopher and his time than any number of stodgy scholarly works. And there's a crazy plausibility to the gradually revealed story about where Christianity came from, and the Vatican conspiracy to keep it secret. An astoundingly original way to write philosophy; a funny, sexy, hugely entertaining page-turner, extremely interesting, entirely delightful."
—Dr. Robert M. Martin
Professor of Philosophy,
Editor of The Dalhousie Review,
author of Philosophical Conversations, and
There Are Two Errors in the the Title of this Book
---
"This rollicking update of the academic novel offers the most diversion professors in the humanities have enjoyed since Morris Zapp cashed in his Skymiles, and as inventive a resuscitation of Aristotle's lost works as The Name of the Rose. Perpetrating up-to-date terrorism in cyber-Augustan Rome, or probing Aristotle's biography and (re)inventing the dialogues so as to place him at the head now of all western thought, or carving a niche for the preservation of Dionysiac cult right under our nose — would I have made that connection between sashimi and Dionysiac omophagia? —Kaye's characters and their motives prove plausible in the most unpredictable ways. And her ingenuity connects with visceral professorial fantasy at every turn. Dr. Dana McCarter bolts into adventure with verve and swagger. She extends high-power doctoral training in classical philosophy and paleography through all the paces. She's alluring, mostly scrupled, and sumptuously endowed with an expense account that just won't quit!"
—Roger T. Macfarlane
Associate Professor of Classics
and Director of the Ancient Textual Imaging Group at Brigham Young University
---
"Brings Aristotle to life in an entertaining and dramatic way. I was convinced."

—Michael Tierno
Author of
Aristotle's Poetics for Screenwriters
---