FOR IMMEDIATE RELEASE
pubinsider@earthlink.net

OCTOBER 1, 2005

CONTACT: JEFFREY BOWEN
800-733-6511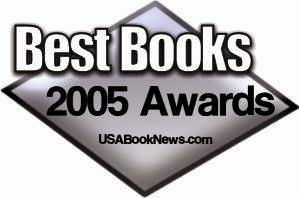 USABOOKNEWS.COM ANNOUNCES WINNERS AND
FINALISTS OF THE "BEST BOOKS 2005" AWARDS

Amy Tan's Saving Fish from Drowning &
Sue Grafton's S is for Silence Win Top Fiction Honors
Los Angeles – USABookNews.com, the premiere online magazine and review website for mainstream and independent publishing houses, announced the winners and finalists of its "BEST BOOKS 2005" AWARDS (BBA) on October 1, 2005. 250 winners and finalists were announced in 60 categories covering print, audio, e-books and interactive CD-ROMs. Awards were presented for titles published in 2005 and late 2004.

Jeffrey Bowen, president and publisher of USABookNews.com said that this year yielded an unprecedented number of entries, which were then narrowed down to 250 winners and finalists.
Award result highlights include:
The Illustrated To Think Like God: Pythagoras and Parmenides, The Origins of Philosophy (Parmenides Publishing) by author Arnold Hermann wins the Best Books Award for Philosophy.
Amy Tan's forthcoming title, Saving Fish from Drowning (Putnam), won the General Fiction category
Sue Grafton's December release, S is for Silence (Putnam), took home the award for Best Mystery
Break-out author, Sankara Saranam, won Best Spirituality title for his highly acclaimed book God Without Religion: Questioning Centuries of Accepted Truths (The Pranayama Institute)
Business author, Edward Morler, won for The Leadership Integrity Challenge: How to Assess and Facilitate Emotional Maturity (Sanai Publishing)
"This year's award results represent a phenomenal mix of books from a wide array of publishers throughout the United States. As an executive in the publishing PR & marketing industry and president of both USABookNews.com and PubInsider.com, I wanted to create an award's competition that recognized books the year that they are published rather than honor titles eight to twelve months after the original launch window has passed. With a full publicity and marketing campaign promoting the results of BBA, this year's winners and finalists will gain additional media coverage for the upcoming holiday retail season," said Bowen. "BBA is the result of prolific authors and publishers, enthusiastic publishing house executives, and judges in the publishing industry who bring their editorial, PR, marketing, and design expertise to the table."

Winners and finalists traversed the publishing landscape. Warner Books, Harper San Francisco, Hay House, Penguin/Putnam and hundreds of independent press titles contributed to the success of this year's BBA competition.

USABookNews.com is an online publication providing coverage for books from mainstream and independent publishers to the world online community. USABN Monthly is the monthly electronic magazine e-mailed free to a large cross-section of the book buying public.

A complete list of the winners and finalists of the USABookNews.com "Best Books 2005" Awards are available online at http://www.USABookNews.com.

Jeffrey Bowen, President & Publisher of USABookNews.com, is available for television, radio, and press interviews nationwide to talk about the Best Books 2005 Award results and other publishing industry topics. Contact 800-733-6511 or pubinsider@earthlink.net for schedule availability.